Contact Us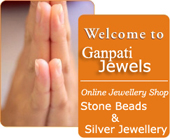 Welcome to Ganpati jewels, our goal is to offer premium quality gemstone beads, silver jewelry to fulfill need of any customer, from end-users to bulk-buyers anywhere in world. We always welcome questions and feedback from customers, we always welcome manufacturers, having specialized production & merchandise , please contact us.
Corporate Office
Ganpati Jewels
L4-A-Krishna Marg, C-Scheme, Jaipur - 302001, India
Mobile: 91-98290 09853, Tel.: 91-141-2619140

Registered Office
Ganpati Jewels
303, Ganesh Complex, 1046 Sitaram Ji ki Gali,
Jadiyon ka rasta, Johari Bazar, Jaipur - 302003, India.
---
Correspondence Address :
772 lalit Bhawan , Behind Minerwa Talkies ,Agra Road ,Jaipur 302004 India.

---
Chief Executives Officers:
Mr. Ashok Agarwal, Mr. Rakesh Agarwal
You contact to our executive personally by pre-appointment
---
---
You can submit your query here.