Diamond beads
Gemstone Beads Wholesale:
Diamond gemstone beads
Buy Diamond natural gemstone beads online at wholesale price, Diamond beads for jewelry making

Total Items : 35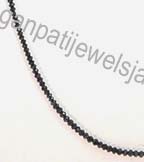 gjpb501

Order Type : Dispatch in 5-6 Days
Diamond Beads Necklace: AAA Quality Black Diamond Faceted Rondelle Beads Strand Of 16 Inches
| | | | |
| --- | --- | --- | --- |
| Gemstone | Diamond | Size | 2 MM - 3 MM approx. |
| Shape | facetted roundel | Beads strand length | 16 inches |
| Quality grade | A A A | Order Dispatch | Dispatch in 5-6 Days |
| Minimum Order Qty | 1 Strand | Wholesale Price | US$ 578.76 Per Strand |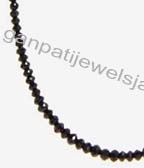 gjpb502

Order Type : Dispatch in 5-6 Days
Black Diamond Faceted Rondelle Beads Strand Of 16 Inches To Make Diamond Beads Necklace, Diamond Beads Bracelets, Diamond Beads Earring Jewelry
| | | | |
| --- | --- | --- | --- |
| Gemstone | Diamond | Size | 2.2 MM to 3.5 MM |
| Shape | facetted roundel | Beads strand length | 16 inches |
| Quality grade | A A A | Order Dispatch | Dispatch in 5-6 Days |
| Minimum Order Qty | 1 Strand | Wholesale Price | US$ 868.14 Per Strand |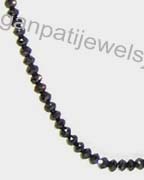 gjpb505



Order Type : Dispatch in 5-6 Days
AAA Quality Black Diamond Beads Faceted Rondelle Beads Strand Of 16 Inches For Diamond Beads Necklace, Diamond Beads Bracelets, Diamond Beads Earrings Making
| | | | |
| --- | --- | --- | --- |
| Gemstone | Diamond | Size | 2.5 MM - 3.75 MM approx |
| Shape | facetted roundel | Beads strand length | 16 inches |
| Quality grade | A A A | Order Dispatch | Dispatch in 5-6 Days |
| Minimum Order Qty | 1 Strand | Wholesale Price | US$ 1157.52 Per Strand |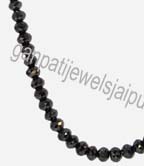 gjpb506

Order Type : Dispatch in 5-6 Days
Black Diamond Faceted Rondelle Beads Strands Of 16 Inches For Diamond Beaded Necklace, Diamond Beaded Bracelets, Diamond Beaded Earring Jewelry Making
| | | | |
| --- | --- | --- | --- |
| Gemstone | Diamond | Size | 3.5 MM - 4.5 MM approx |
| Shape | facetted roundel | Beads strand length | 16 inches |
| Quality grade | A A A | Order Dispatch | Dispatch in 5-6 Days |
| Minimum Order Qty | 1 Strand | Wholesale Price | US$ 1446.9 Per Strand |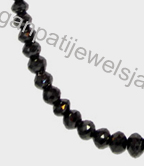 gjpb510

Order Type : Dispatch in 5-6 Days
Black Diamond Beads Faceted Rondelle Beads Strand Of 16 Inches To Make Diamond Bead Necklace, Diamond Beads Bracelets, Diamond Beads Earrings
| | | | |
| --- | --- | --- | --- |
| Gemstone | Diamond | Size | 4.5 MM-6mm aprx. |
| Shape | facetted roundel | Beads strand length | 16 inch aprx. |
| Quality grade | | Order Dispatch | Dispatch in 5-6 Days |
| Minimum Order Qty | 1 Strand | Wholesale Price | US$ 3005.1 Per Strand |


gjpb527

Order Type : Dispatch in 5-6 Days
Diamond Beads: Black Diamond Briolette Teardrops Beads 8 Inches Strand
| | | | |
| --- | --- | --- | --- |
| Gemstone | Diamond | Size | 5mm-6mm aprx. |
| Shape | Briolette Drops | Beads strand length | 8 inch aprx. |
| Quality grade | A A A | Order Dispatch | Dispatch in 5-6 Days |
| Minimum Order Qty | 1 Strand | Wholesale Price | US$ 2504.25 Per Strand |



gjpb528

Order Type : Dispatch in 5-6 Days
Black Diamond Beads Briolette Teardrop Beads Strand Of 16 Inches For Jewelry
| | | | |
| --- | --- | --- | --- |
| Gemstone | Diamond | Size | 4mm-5mm aprx. |
| Shape | Briolette Drops | Beads strand length | 16 inch aprx. |
| Quality grade | A A A | Order Dispatch | Dispatch in 5-6 Days |
| Minimum Order Qty | 1 Strand | Wholesale Price | US$ 4173.75 Per Strand |


gjpb530

Order Type : Dispatch in 5-6 Days
Buy Online Gray Color Real Diamond Rough Chip Beads Strand Of 16 Inches To Make Diamond Beaded Necklace, Diamond Beads Bracelets, Diamond Beads Earrings Jewelry
| | | | |
| --- | --- | --- | --- |
| Gemstone | Diamond | Size | 2.5mm-4mm |
| Shape | uncut chips | Beads strand length | 16 inches |
| Quality grade | A A A | Order Dispatch | Dispatch in 5-6 Days |
| Minimum Order Qty | 1 Strand | Wholesale Price | US$ 90.1 Per Strand |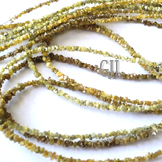 gjpb531

Order Type : Dispatch in 5-6 Days
Buy Online Brown Diamond Rough Chip Beads Strand Of 16 Inches For Diamond Beads Necklace, Diamond Beads Bracelets, Diamond Beads Earrings
| | | | |
| --- | --- | --- | --- |
| Gemstone | Diamond | Size | 2 MM -2.5 MM |
| Shape | uncut chips | Beads strand length | 16 inches |
| Quality grade | A A A | Order Dispatch | Dispatch in 5-6 Days |
| Minimum Order Qty | 1 Strand | Wholesale Price | US$ 72.08 Per Strand |



gjpb532

Order Type : Dispatch in 5-6 Days
Natural Diamond Beads Necklace: AAA Quality Black Diamond Beads Cube Beads Strand Of 16 Inches
| | | | |
| --- | --- | --- | --- |
| Gemstone | Diamond | Size | 2mm-3mm aprx |
| Shape | faceted cube | Beads strand length | 16 inch appx. |
| Quality grade | AAA | Order Dispatch | Dispatch in 5-6 Days |
| Minimum Order Qty | 1 Strand | Wholesale Price | US$ 1391.25 Per Strand |
---
Precious gemstone beads
Diamond

Buy online at wholesale prices natural diamond beads, black diamond beads necklace, white diamond beads, yellow diamond beads, genuine diamond beads for jewelry making as real diamond beads necklace, diamond beads bracelets, diamond bead earring, direct from manufacturer. Choose from vast collection of diamond faceted rondelle beads strands, diamond briolette, diamond chips beads.
Gemstone
semi precious beads
precious gem beads
Silver Jewelry
Gemstone Jewelry
Silver Diamond Beads
Wholesale Products
Semi precious Beads by Stone
Precious Beads
Precious Beads By Shape
Semi precious Beads by Shape
| | |
| --- | --- |
| Ganpati Jewels | |

Manufacturer, exporter, wholesale supplier & leading online store of wholesale gemstone, gemstone beads, semi precious beads , gemstone silver jewelry from India at direct factory prices. Govt. of India registered exporter of gemstones, beads and jewelry.